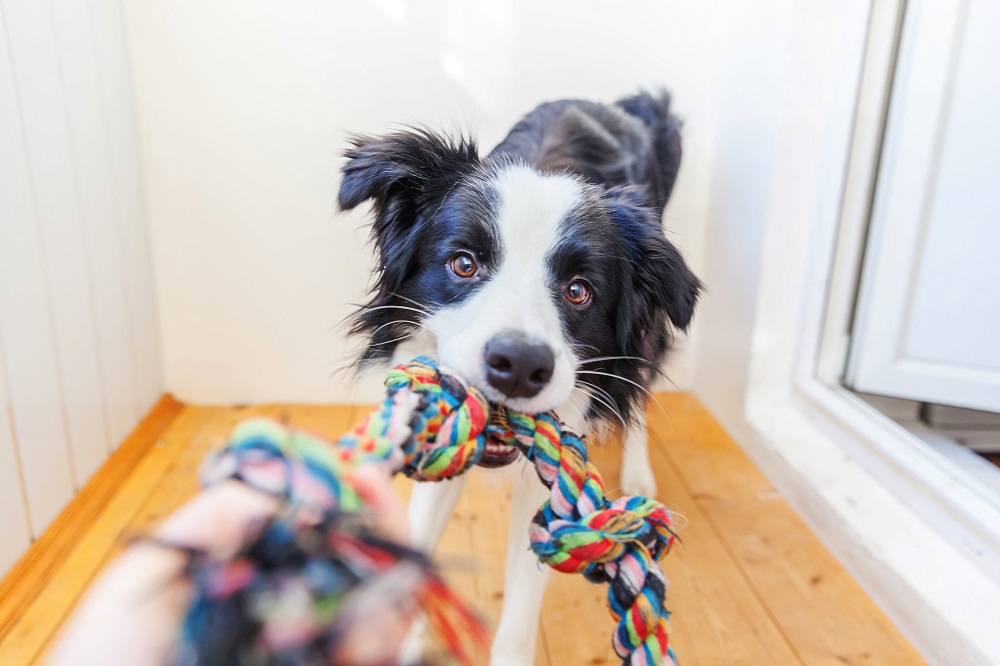 Sometimes life just gets in the way and you find yourself too busy to take your dog our for their usual stroll of the day. Here are some common reasons that dog owners skip walks for their pets:
Their dog pulls on the lead
Their dog is afraid of people/other dogs
You just don't have the time
There are MANY different ways to train, interact and exercise your dog without ever leaving the house. These can be done inside and outside in the garden and provide much needed mental stimulation and bonding time with your pup.
Flirt Pole
A Flirt Pole can be great for dogs to get energy out in a safe and controlled manner. You can purchase a flirt pole or make one yourself. Simply grab a stick around 3-5ft in length (or smaller if you have a smaller space) and tie some bits of fabric to the end of string on the end of the stick. Simply let your dog briefly catch the lure every few minutes and give them praise when they catch it, but then make them release the lure and start over. It gives you a great way to interact and play with pups who are still learning their coordination and teething. Flirt Pole - Amazon - £15.99
Snuffle Mats
Snuffle mats are great for slowing down fast eaters as you can use them to feed your dogs main meal with if you find there eating just slightly too fast. Snuffle mats work best with dry food or your dogs treats Simply hide them in the fabric mat and let your dog sniff them out and work for their meals. This gives them fantastic mental stimulation and will tire them out far easier than a long walk! You can even make your own if you don't want to buy one. How To Make Your Very Own Snuffle Mat
Structured Play
Don't forget to rotate your dogs toys so they don't get bored of them! Most dog trainers advise not to let your dog have their toys for the full day as this is an easy way for them to get bored of them and stop interacting with them. Place all of your dogs dogs into a box or tucked away somewhere from them. Then twice a day, empty out all your dogs dogs onto the floor and let them go WILD! This will stimulate them far better and exhaust them quicker than a walk. Play with them and their toys for a minimum of around 30 minutes each time and then simply pack all your pups toys away and watch them take themselves off for a nice snooze to regain their energy .
Stuffed Food Chews
Toys that are great for this are the likes of KONG Classic toys. These are chew toys that allow you to stuff your dogs favourite treats or food inside. You might stuff some squeezy cheese inside along with some of their dried food or some peanut butter with some treats mixed in and watch your dog play with this until they've got every last bit of food out. For an added challenge for those dogs who are too good at it. Add your selected food into the KONG toy and put it in the freezer overnight for an added challenge for your pup. This helps keep your pup busy and allows them to get some of their energy out while you are out of the house or simply out of the room and can help stop them chewing on your furniture! Treat balls are also available which you simply add your dog treats or food into the ball and they must roll it and move it in order to get the food out and work for their reward. KONG Compnay
Good Old Tug Of War/ Fetch
Nothing beats a good game of Tug Of War with your dog in the house. They will enjoy the interaction and you can also use it as a training tool allowing your dog to play and catch the toy after they have successfully performed the desired command. Or you can just have fun for 30 minutes playing with your pup and helping them get their excess energy out. Fetch can be played down hallways or across rooms just remember to move anything fragile out of the way from any speedy or Large dogs who haven't maybe realised how big they are!
Whatever way you choose to exercise your dog always make sure they have fresh drinking water available for them and have fun with your furry friends!!