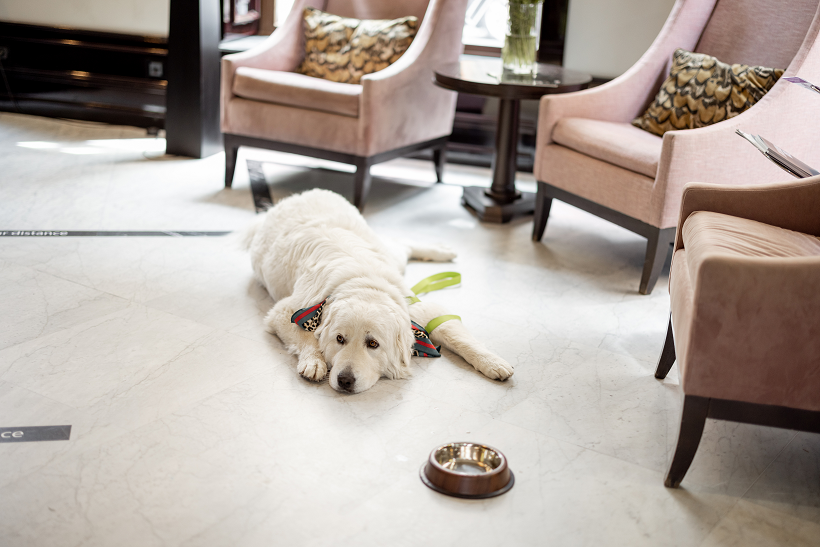 Are you late booking your holiday this year? Or are you looking for a last-minute, impromptu break?
Whether it's a long stay or a brief visit, we know that finding a hotel or B&B that will give your furred family member the warm welcome they deserve can be a challenge. Well we've looked through the recommendations from our Brandy customers, and for this list we've picked five hotels that offer dog-friendly accommodation across Ireland, whether you're looking for a long stay or a quick trip.
Inn on the Coast – Portrush, County Antrim
50 Ballyreagh Rd, Portrush, Co. Antrim, BT56 8LT www.innonthecoastportrush.com
The Inn on the Coast boasts a stunning location and has been pet-friendly since it opened in 2012, offering 10 pet friendly rooms all located on the ground floor for easy convenience. The Inn has a designated section in the Pub Bistro for dining with your furry friend, and offer special arrangements so your dog can also join you for breakfast. All dogs who visit the Inn receive complimentary treats and water, and those who book in to stay receive a 'pooch pack' filled with goodies. Early booking is advised, but the Inn on the Coast looks to be well worth a visit. FIND OUT MORE.
The Twelve Hotel – Barna, County Galway
Barna Village, Co. Galway, H91 Y3KA www.thetwelvehotel.ie
Named Ireland's Hotel of the Year in 2018 and continuing to win similar accolades, The Twelve Hotel is definitely one to add to your wishlist. The hotel only has three pet suites available, but these offer more space for no additional charge, though a refundable deposit is required. The Twelve also offers a Pampered Pet Program, giving your best friend the same 5 star treatment as yourself. Creature comforts include a welcome 'doggie bag' including a toy and treat, a pet menu and doggie room service, as well as maps of local walks and details and discounts on local pet services. FIND OUT MORE.
Randles Hotel – Killarney, County Kerry
Muckross Road, Killarney, Co. Kerry, V93 N264 www.randleshotel.com
The Randles Hotel offers a fantastic location in Killarney, just five minutes walk from the town centre. There's easy access to many different walking routes and hiking trails, a spa within the hotel as well as many places to rest and relax in comfort. The website confirms that small dogs are welcome, with a request to contact the hotel directly for more details, but assuring visitors 'we aim to surpass the expectations of all our guests.' FIND OUT MORE.
Castletroy Park Hotel – Limerick, County Limerick
Dublin Road, Castletroy, Limerick V94 KW28 www.castletroypark.ie
The Casteletroy Park Hotel has some dog-friendly rooms available on request, with an additional charge to cover cleaning costs. The semi-enclosed courtyard to the rear of the hotel is ideal for a quick morning run around after breakfast, and a location adjacent to the University of Limerick campus offers longer walks around the scenic riverside grounds. The Casteltroy requests pets are kept on a leash at all times and are not allowed in food areas, and guests are requested to bring their own dog food and bedding. FIND OUT MORE.
Wyatt Hotel – Westport, County Mayo
The Octagon, Westport, Co. Mayo, F28 TD75 www.wyatthotel.com
The Wyatt is a boutique hotel in the heart of Westport, offering easy access to the town as well as beaches, walks, historic sites and more. They have a limited offering of dog-friendly rooms with wooden flooring and either a double bed or double and single, which are in an isolated part of the property. Dog-friendly rooms include a dog bed and have direct exterior access. Dogs are not allowed in the public areas of the hotel, however. FIND OUT MORE.
These are just some of the options recommended by Brandy customers as great places to stay with your dog, but we're sure there are many more options out there. If you know of a great dog-friendly hotel, B&B or other type of holiday accommodation, we'd love to add it to our list!
We'd love to expand our list to cover more places and budgets, so if you have a recommendation, please get in touch!