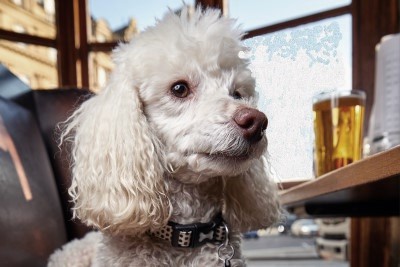 Five Dog-Friendly Pubs to Visit with your Furry Friend
If you're reading this, you probably already know that Ireland is a land of dog-lovers! According to Dogs Trust Ireland, 40% of households in Ireland have a dog , but despite this fact, finding places to go with your canine companions can be a challenge.
In recent months we've been asking Brandy customers to share the best dog-friendly places they've discovered, and over the next few weeks and months we'll be sharing some of the highlights with you.
With August, summer is officially here, even if the weather doesn't always agree! But come rain or shine, a visit to a nice pub for a good drink is a great way to finish a summer day, and if there's a four-legged family member in your group, you'll want to be sure they're as welcome as everyone else.
So today we're sharing five dog-friendly pubs from around the country to visit with your furry friend, as recommended by Brandy customers.
The Dirty Onion – Belfast, County Antrim 3 Hill Street, Belfast, BT1 2LA www.thedirtyonion.com
The Dirty Onion is housed in one of Belfast's oldest buildings, renovated and reintroduced as 'an authentic Irish pub with a modern twist'. There's plenty of space in the large beer garden, and inside is warmed by a cozy peat fire, so there's comfort all year round. The Dirty Onion is proud to be dog-friendly, and offers craft beer, whiskey and food (with chicken a speciality), as well as live music and entertainment 7 nights a week. Find out more.
The Harbour Bar – Bray, County Wicklow 1 Strand Rd, Ravenswell, Bray, Co. Wicklow, A98 D308 www.theharbourbar.ie
Established in 1872, The Harbour Bar was originally a terrace of fisherman's houses, and today is a destination pub full of character, offering great beer, a warren of rooms to explore and live entertainment throughout the week. The Harbour Bar is proudly pet friendly, offering water bowls aplenty and even featuring a dedicated photo gallery of their canine customers on the website. Find out more.
Fionnbarra Bar – Cork City, County Cork 73 Douglas St, Ballintemple, Cork, T12 ETF1
A hidden gem of a bar nestled down Cork's quirky Douglas Street, Fionnbarra's offers a large heated beer garden and huge selection of beer and spirits. The kitchen is open till late and according to reviews the pizza is to die for! With quirky décor and a great atmosphere, Fionnbarra is will worth a visit. Find out more.
The Shire – Killarney, County Kerry Michael Collins Place, Killarney, Co. Kerry, V93 CP26 www.theshirekillarney.com
The Shire is a friendly café and bar with a Tolkien theme and has been mentioned in many different articles and blogs as a great place to visit. Offering a broad range of drinks as well as speciality coffees and food through the day, it's an ideal spot to stop whenever you pass by. The Shire has indoor and outdoor seating in a stylish setting, and is proud to be dog-friendly with designated areas for dogs (and their owners!). Find out more.
JJ Houghs – Banagher, County Offaly Main Street Banagher, Co. Offaly
Partly hidden behind a thriving vine, JJ Hough's Singing Pub is a pub with a 250-year history and has long been celebrated for its charm and warm welcome. Offering a soothing interior, a quirky beer garden and traditional music nightly, it's a perfect venue if you're looking for a traditional Irish pub experience. Recently included in a Lonely Planet list of the 20 best pubs in Ireland, this unique pub is well worth a visit if you're in the area. Find out more.
So those are five dog-friendly pubs as recommended by Brandy customers. If you have a favourite dog-friendly pub that isn't on this list, we'd love to hear about it!
If you have a pub to recommend, please get in touch. We might feature your recommendation in a future list!